Google Workspace (G Suite) Security Keys
The Strongest Method of 2 Factor Authentication
Using Google Workspace (formerly G Suite) Security Keys for 2FA is the easiest and quickest way to lock down your organisation's data. Simply insert and tap your Security Key to gain secure access to your account and apps.
With a simple touch, the multi-protocol Security Key protects access to computers, networks, and online services.
No more reaching for your smartphone, or re-typing passcodes. Just plug in your Security Key, tap, and it does the rest for you.
Our Security Keys work with Windows and Mac login, Gmail, Dropbox, Facebook, Salesforce, Duo, and many more services.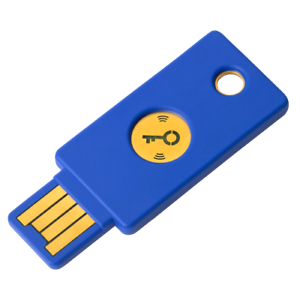 Yubico Security Key Series
The Yubico Security Key Series combines hardware-based authentication, public key cryptography, and the U2F and FIDO2 protocols to eliminate account takeovers.
Works out of the box with Gmail, Facebook & hundreds more
Supports FIDO2, U2F
Waterproof and crush resistant
There are two different keys as part of this range, with the main difference between them being the support for NFC, to allow for contactless authentication with secure devices.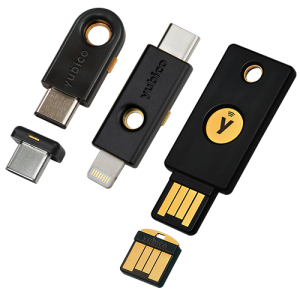 Multi-protocol security keys, providing strong two-factor, multi-factor and passwordless authentication, and seamless touch-to-sign. Supports FIDO2, FIDO U2F, one-time password (OTP), OpenPGP and smart card, with a choice of form factors.
Stops account takeovers
Multi-protocol; FIDO2, U2F, Smart card, OpenPGP, OTP
USB-A, USB-C, NFC & Lightning connector for iOS devices
The Yubikey 5 Series Security Keys are the most future-proof 2FA devices on the market, integrating with a wide range of services and device types.
*Yubico, 
 , YubiKey are trademarks of Yubico*
How to Purchase G Suite Security Keys
If you're interested in purchasing security keys for your organisation, please click one of the buttons below to arrange a chat with one of the espok team or to receive a custom quote based on your requirements.